Epson SureColor T7000/7080 44" Format Engineering Plotter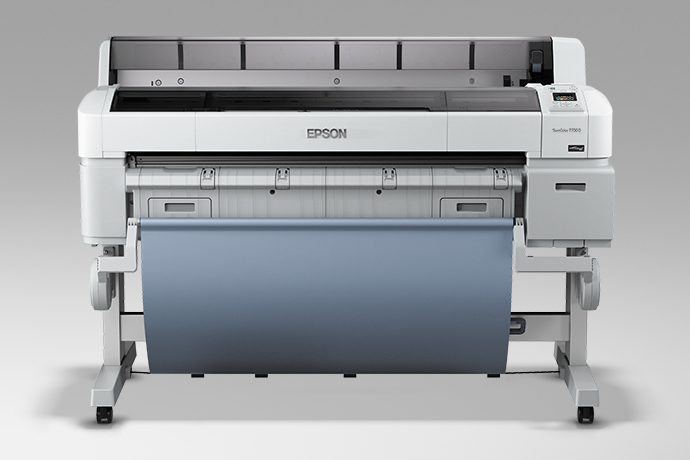 Description:
This 44-inch large format 4-colour printer is ideal for applications where speed and economy are paramount, such as CAD, GIS, custom banners, presentations and indoor signage. Creating posters is easy, even with no experience. This cost-effective package can reduce turnaround times and enhance marketing and promotional activities.
Specification:
Base Printing Technology
Advanced MicroPiezo TFP Print Head
10-channel, drop-on-demand, ink jet print head
5-cartridge (Cyan, Magenta, Yellow, Photo Black, Matte Black)
Epson UltraChrome XD ink
Professional-level pigment-based ink technology
Printer Nozzle Configuration
Color and Monochrome 720 nozzles per Color
Smallest droplet size is 3.5 picoliters
Resolution
2880 x 1440 dpi; 1440 x 1440 dpi; 1440 x 720 dpi;

720 x 720 dpi; 720 x 360 dpi

Dimensions
Dimensions and weights include printer and stand

192 lbs – 63.3″ W/ 32″ D / 44.4″ H

Acoustic Noise Level
Approximately 50 dB(A) according to ISO 7779
Printer Interfaces
Includes as standard one Hi-Speed USB 2.0
(1.1 compatible) and one Gigabit Ethernet port
Operating Systems Supported
Macintosh:
Leopard 10.5, Snow Leopard 10.6, Lion 10.7,

or Mountain Lion 10.8 (Intel based)Windows:
Windows 7,

Vista® or XP (32-bit or 64-bit)

Epson Intelligent Ink Cartridge 

with Epson UltraChrome XD Ink

Cartridge fill volume 110 ml, 350 ml, or 700 ml each x 5 colors total
Ink cartridge shelf life
(recommended) 2 years from printed production
date or 6 months after open
Temperature Operating Storage
50° to 95°F (10° to 35°C)
-4° to 104°F (-20° to 40°C)
Features: 
Efficient: 28 secs for A1 print on plain paper
Economical: Cartridge sizes from 110ml to 700ml
Easy to use: Operated from the front
Easy to install: HP-GL emulation mode
High-quality: 0.02mm minimum line width
Characteristics:
Efficient and economical
The SC-T7000 takes just 28 seconds to produce an A1 print in draft mode on uncoated plain paper & offers optimised running costs with a choice of 700ml, 350ml or 110ml ink cartridge sizes. You are able to fit different sizes so if you always print in mono then you can fit a 700ML Black to keep cost down. A simple take back program allows for easy recycling of your ink cartridges directly through Epson.
Easy to set-up and use
The Epson Surecolor SC-T range range are easy to use that operators do not need special training. All controls are at the front, and switching between photo and matte black ink is automatic. The Media roll is fed conveniently from the top, finished prints emerge at the front, stacking neatly into a new basket design not featured anywhere else. Tracking how much paper is left on a roll is simple thanks to media barcode printing, ideal should you wish to swap between media types.
Straightforward installation
The SC-T7000 is straightforward to install – an HP-GL emulation mode ensures an easy fit into most production environments.
High-quality results
Epson UltraChrome XD Ink has been specifically developed to produce high-quality, durable prints with deep blacks, a wide colour gamut and crisp, dense lines with a minimum width of 0.02mm. Epson's Variable-size Droplet Technology brings clarity to fine detail while delivering optimum efficiency for larger areas of colour, this technology also produces one of the highest quality levels whilst in draft mode, making draft plots the most acceptable quality in the market.
Media Choices
The Epson SC-T7000 is versatile enough to print on to a selection of coated and uncoated medias on either 2″ or 3″ core, uniquely for a CAD machine it can also print on to 1.5mm board, allowing you to print presentations directly on to boards ready for immediate display. It can also cope with some short term outdoor applications.
Reduced bills and environmental impact
Helping to reduce impact on the environment, the SC-T range usesEpson XD Ultrachrome inks water-based pigment inks & carries an ENERGY STAR rating for its excellent power efficiency.

Wide applications: 
Apply to the geographic information image map, graphic / POP newspaper / blue paper proofing, engineering line drawing, engineering renderings and other image printing.
Our Services:
1. We have our own brand, the current sales area covering 28 countries and regions.
2. We are professional in this field more than 10 years, with market strength, good quality,the price is quite competitive.
3. We offer OEM services, we can do OEM for your brand (print your graphic on the product).
Processing methods, size, quality and so will meet your requirements.
4. Respond to inquiries at 24 working hours.
5. Experienced staff to answer all your questions.
6. We offer one-stop service for sublimation printers, roller heat press machine, sublimation paper and sublimation inks.
FAQ: 
1.Are you manufacturer?
Yes. We have many years of manufacturing and exporting experience. We are proud to be the first batch of Chinese manufacturers devoted in large format printers.
2.Why Sublistar is 1st choice for large format printers and supplies?
1) ExtremelyParticular about products quality.
2) With lifetime online support.
3) Availability of a wide range of products to suit almost every need about large format digital printing
3.How to buy?
Simply contact our sales expert and request for a Proforma Invoice. The order will be shipped after the invoice get paid.
4.Do you ship internationally?
Yes. We ship internationally. With powerful backup of our regular forwarder, we ship to almost every places in the world by sea, air, train, truck and multimodal transport. Destination can be a port or a specific address. Contact us to get quote for shipping.
5.How to pay?
Recommended payment method is bank transfer which usually has not much limitation in most countries.
For small amount, there are some other options : Western Union, Money Gram and Paypal.
6.How is your technical support?
Our English-speaking technician is available online via Email, Skype and Whatsapp.
Also, we can remote control your PC via team viewer to solve some software issue.