Mimaki TX300P-1800 77" Direct to Textile Printer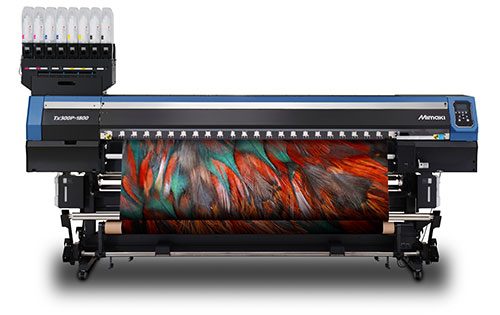 Description:
The 77-inch wide, Direct to Textile  TX300P-1800 printer is the Ultimate in On-Demand Production for roll-to-roll textile printing, offering new levels of quality and productivity for digital textile printing. This textile printer was specifically engineered to meet the latest market needs in entry-level textile applications. Designed with reliable textile feeding and uninterupted printing capabilities, it also includes a high gap printhead that is unaffected by thick textiles, woven patterns and raised fiber surfaces, while maintaining extremely high quality output. High print speeds of up to 710 SqFt/Hr can be achieved in four-color mode.
Specification:
Tx300P-1800
Printhead
On-demand piezo head (4 in-line printheads)
Print resolution
360 dpi, 540 dpi, 720 dpi, 1,080 dpi, 1,440 dpi
Maximum print width
1,920 mm (75.6 in)
Maximum media width
1,920 mm (75.6 in)
Ink
Type/Color
Sublimation dye ink: Sb420 (Bl, M, Y, K, Lbl, Lm)
Disperse dye ink: DD400 (C, M, Y, K, R, Gray, Violet, Pink)
Textile pigment ink: TP400 (C, M, Y, K, Bl, R, Lk)
Reactive dye ink: Rc400, Rc500 (C, M, Y, K, Bl, R, Or, Lk)
Acid dye ink: Ac400 (C, M, Y, K, Bl, R, Or, Lk)
Package size
2L Ink pack
Media thickness
1.0 mm or less
Rolled media weight
40 kg (88 lb) or less
Please note that the above maximum weight applies on a printed roll including ink weight.
Certifications
VCCI class A, FCC class A, ETL UL 60950-1,
CE Marking (EMC, Low voltage, Machinery directive, and RoHS),
CB, REACH, Energy Star, and RCM
Interface
USB 2.0 Hi-speed / Ethernet 1000BASE-T
Power supply
Single-phase AC100 – 120V / AC200 – 240V
Power consumption
AC100V: 1.44kW / AC200V: 1.92kW
Operational environment
Temperature: 20 – 30 °C (68 – 86 °F)
Humidity: 35 – 65% Rh (Non condensing)
Dimensions (W × D × H)
3,200 x 965 x 1,857 mm (126 x 38 x 73 in )
Weight
255 kg (562.2 lb)
Features:
Media handling system:
Reliable belt conveying mechanism including front and rear tension bars, paste roller and crumple-free roller,  ensures stable textile transportation for providing quality printing.
High gap printhead:
While maintaining high-quality printing, high gap settings of the printhead allow printing on not only thick textiles but also various woven patterns or raised fiber surfaces.
Production print speeds:
The TX300P-1800 printer delivers high productivity with print speeds of up to 710 square feet per hour in four-color mode. Print speeds of up to 376 square feet  per hour can be achieved in six-color mode.
New Inks:
Mimaki offers five ink types—sublimation, dispersant, pigment, reactive, and acid—to meet various application needs. For providing affordable ink prices, inks are packed in large volume packs (2 liters) and can be installed to MBIS3.
Workflow enhancements:
The TxLink3 Lite RIP Software offers simple RGB and CMYK color replacement on raster and vector data, as well as the ability to produce different color patterns. Moreover, various color replacement functions can represent desired colors.
Applications:
Apparel
Backlit Fabric Signage
Bags
Banners
Custom Fashions
Custom Original Goods
Decorative Panels
Exhibition Soft Signage
Fashion & Sportswear
Fashion Textiles
Flags
Interior Decor
Performance Apparel
Sample Textile Production
Soft Signage
Our Services:
1. We have our own brand, the current sales area covering 28 countries and regions.
2. We are professional in this field more than 10 years, with market strength, good quality,the price is quite competitive.
3. We offer OEM services, we can do OEM for your brand (print your graphic on the product).
Processing methods, size, quality and so will meet your requirements.
4. Respond to inquiries at 24 working hours.
5. Experienced staff to answer all your questions.
6. We offer one-stop service for sublimation printers, roller heat press machine, sublimation paper and sublimation inks.
FAQ: 
1.Are you manufacturer?
Yes. We have many years of manufacturing and exporting experience. We are proud to be the first batch of Chinese manufacturers devoted in large format printers.
2.Why Sublistar is 1st choice for large format printers and supplies?
1) ExtremelyParticular about products quality.
2) With lifetime online support.
3) Availability of a wide range of products to suit almost every need about large format digital printing
3.How to buy?
Simply contact our sales expert and request for a Proforma Invoice. The order will be shipped after the invoice get paid.
4.Do you ship internationally?
Yes. We ship internationally. With powerful backup of our regular forwarder, we ship to almost every places in the world by sea, air, train, truck and multimodal transport. Destination can be a port or a specific address. Contact us to get quote for shipping.
5.How to pay?
Recommended payment method is bank transfer which usually has not much limitation in most countries.
For small amount, there are some other options : Western Union, Money Gram and Paypal.
6.How is your technical support?
Our English-speaking technician is available online via Email, Skype and Whatsapp.
Also, we can remote control your PC via team viewer to solve some software issue.